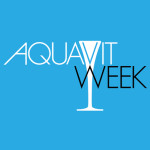 The third annual Aquavit Week, the week-long celebration of the signature Scandinavian spirit, is taking place December 1-7, 2014. Aquavit may be the most underrated spirit behind the bar, and there may be more aquavit in the Pacific Northwest than in any other part of the United States. Once an esoteric import, there are now at least twenty different aquavits available on the American market, including the locally distilled House Spirits Krogstad and Bull Run Regnig Dag.
This year Aquavit Week expands to multiple locations throughout Portland, each hosting a unique event.
Aquavit Week Opening Party — On December 1st, North Portland bar The Hop and Vine will once again host the opening party. This year will feature the brand new release of Bull Run's Regnig Dag aquavit, aged in a blend of pinot noir and pinot gris barrels. Aquavit-friendly beers on tap will include the Commons' Pumpernickel Rye Saison. Begins at 6 pm.
Aquavit Pairing Dinner — On December 4th, Racion will serve an inventive dinner pairing aquavit cocktails with modernist cuisine, a collaboration among chef Anthony Cafiero, bar manager Justin Siemer, and Aquavit Week founder Jacob Grier. $100 for five courses. Begins at 7 pm. For reservations, call 971.276.8008.
Nordic Night — On December 6th, Fenrir will offer their menu of Scandinavian-inspired fare, a selection of aquavit, and original aquavit cocktails, a collaboration among owners Ian Wilson, John James Dudek, and Tyler Hauptman and guest bartender Jacob Grier. Begins at 6 pm.
We're also inviting other bars to join the celebration by offering aquavit cocktails throughout the week. Follow updates on Twitter at @AquavitWeek or here at www.AquavitWeek.com
Skål!
—
Aquavit Week was founded in 2012 by Portland, Oregon based bartender and writer Jacob Grier, author of the forthcoming Cocktails on Tap: The Art of Mixing Spirits and Beer.